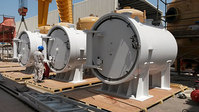 Amazon Filters reports on the completion of a major contract worth over USD 2 million for the provision of filter vessels and cartridges for a sulphate reduction process system integrated in an offshore oil and gas operation.
The supplied filter systems were integrated into two sulphate reduction process packages to provide high quality injection water on two Floating Production Storage and Offloading (FPSO) facilities operating in deep-water offshore. Amazon Filters supplied six 2-metre diameter vessels that were configured in such a way to allow change out of filter cartridges without compromising the required flow of water.
Drawing upon its extensive experience of the oil and gas industry, Amazon Filters was able to identify in advance the many potential technical issues that would need to be overcome and therefore met the challenging delivery schedule necessary for this project.
The supplied filter vessels consisted of large glass flake lined steel housings with Chromium SDSS internals and a quick opening closure. This construction offered protection from corrosion by the filtered seawater, and easy access to the inside of the vessels to facilitate quick filter replacement and all of this without the additional expense of an all alloy construction.
Each filter housing supplied by Amazon Filters contained over 80 high flow filter cartridges and was rated for 857 m3/h flow of seawater. The filter cartridges used in the system were from Amazon Filters SupaPleat XP Extended Life range, manufactured from polypropylene and supplied in the large diameter high flow format. The cartridge design chosen for this demanding project has been refined and optimised on similar applications over a number of years to ensure the required filtrate quality is achieved by offering a high contaminant retention capability, while at the same time avoiding premature blinding problems that make seawater filtration challenging.
Protection of reverse osmosis membranes for sulphate reduction processes is of crucial importance to ensure long membrane life and low down-time for cleaning. Amazon Filters wide range of absolute rated spun and pleated cartridges have been time proven in critical applications worldwide and their use helps guarantee the filtrate quality meets the membrane's water feed specification. Fitted inside an Amazon designed filter housing they provide a high quality and low maintenance solution suitable for 25 years or more of operation.
Full support services for this offshore project are being supplied by Amazon Filters expert filtration engineers and laboratory facilities during the life of the plant.