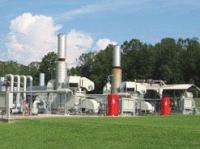 American Midstream Partners, LP has completed the acquisition of Blackwater Midstream Holdings, LLC ('Blackwater'), a developer and operator of terminal storage facilities, from an affiliate of ArcLight Capital Partners, LLC.
The acquisition was announced on December 10, 2013 and includes Blackwater's three operating terminal sites located in Westwego, Louisiana; Brunswick, Georgia; and Salisbury, Maryland along with a brownfield development opportunity in Harvey, Louisiana, located near Blackwater's Westwego terminal. The three operating terminals have a total of 1.3 million barrels of storage capacity and store a variety of products including chemical, agricultural, and petroleum liquid products.
The revenues are fee-based and almost entirely derived from take-or-pay lease contracts. Both the Westwego and Brunswick sites are operating at capacity and have the potential for additional expansions. The Harvey development site is expected to commence operations in 2014, with the potential for up to two million barrels of capacity when fully developed, which would increase Blackwater's total barrels of storage by more than 100 percent.