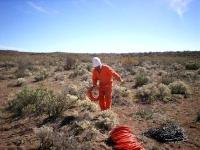 Americas Petrogas Inc. has closed the previously announced sale transaction (the "Transaction") pursuant to which Tecpetrol International S.A. and Tecpetrol Internacional S.L. (Unipersonal) (collectively, the "Purchasers") acquired all of the issued and outstanding common shares of Americas Petrogas Argentina S.A. (APASA), a wholly-owned subsidiary of the Company, and assumed certain intercompany indebtedness owing by APASA to the Company and its other subsidiaries, for an aggregate cash purchase price of US$59.8 million (approximately Cdn$79.4 million based on the noon exchange rate on August 28, 2015, as reported by the Bank of Canada) after an initial working capital adjustment in accordance with the terms of the purchase and sale agreement entered into between the Purchasers and the Company (the "Sale Agreement").
The final Purchase Price is subject to any post-closing adjustments in accordance with the terms of the Sale Agreement. As part of the sale of the APASA shares, the Purchasers also assumed the third party financial debt of APASA in the amount of approximately US$2.5 million.
The Company also retains its 89% ownership interest in GrowMax Agri Corp., which holds phosphate, potash interests, and other minerals in Bayovar, Peru.