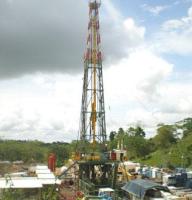 Amerisur Resources provides an update to its operations in the Platanillo field, Colombia.
Oil production and export recommenced after road restrictions lifted Platanillo-2 ST1 produced 1,023 BOPD on test Production ramping back up - currently at approximately 7,500 BOPD Drilling Rig Serinco D-10 moving to Platform 9S Civil works begun on road to Platform 3N Normal field operations have now resumed following the enforced suspension of production due to social protests in Colombia.
Platanillo-2 ST1
This well, which, as previously reported encountered 68ft gross, 39ft net pay in the U sands was perforated in the upper U sand only and was flow tested upon resumption of normal operations, producing 1,023 BOPD
Platanillo Production Facilities
The 10,000 BO tanks in Platform 9S have been successfully tested and will be commissioned shortly. The 10,000 BO tank in Platform 5S is expected to enter service in October of this year.