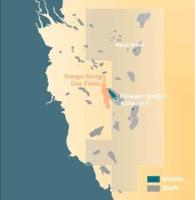 Aminex advises shareholders that completion of the agreement with Solo Oil is dependent only on the written approval of the Tanzanian authorities, following which a formal Deed of Assignment will be executed.
The KNDL contains the Kiliwani North 1 (KN1) well, which is expected to start production at approximately 20 mmcfd in early 2015. Once the Deed of Assignment is complete and if Solo elects to take up its full 13% entitlement, the KNDL joint venture partners will be Ndovu Resources Ltd. (Aminex) 52% (operator), RAK Gas 25%, Bounty Oil 10% and Solo (13%).
Once producing, KNDL will represent a major milestone for Aminex by providing first revenues to the Company from its Tanzanian assets. Independently verified resources at KNDL are estimated to be 45 billion cubic feet of gas in place. Construction of a 2 km pipeline from KN1 wellhead to the new Songo Songo processing plant, at zero cost to the Company, has now commenced and is expected to be completed by the end of 2014.