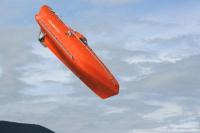 As the new standard for lifeboats on the Norwegian shelf, DNV-OS-E406, was launched back in 2010, it is, today, gratifying for Harding Safety to announce that our lifeboat, the FF1200, is the first on the market to receive a Statement of Compliance (SoC), issued by DNV GL, stating that this boat is in accordance with the aforementioned standard.
DNV GL prepared DNV-OS-E406 on request from, and in close cooperation with, Norsk Olje og Gass (the Norwegian Oil and Gas association (previously OLF). Today DNV-OS-E406 is the current standard for all new freefall lifeboats situated on board fixed installations operating on the Norwegian shelf. The regulations also apply to floating installations, but these are also subject to IMO's requirements in the LSA code
"Harding is naturally extremely proud to be the company who is first to be issued with this Statement of Compliance from DNV GL. DNV GL has been the driving force during development of this standard, and for us in Harding it has been important to run this approval process with regard to 406 via DNV GL in particular", says Alf Eidsvik, Technical Director for Harding Safety AS.