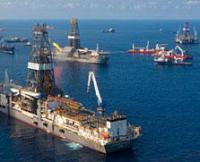 Anadarko Petroleum Corporation issued the following statement in response to Friday's favorable ruling in the Deepwater Horizon Trial.
"Today's ruling is consistent with previous Court determinations that we were not at fault for the Deepwater Horizon event. We look forward to seeing the Clean Water Act portion of the trial resolved soon."
Al Walker, Anadarko Chairman, President and CEO
Background: The Court held a hearing to consider certain evidentiary and discovery issues as the parties prepare for the Clean Water Act (CWA) penalty phase of the Deepwater Horizon trial. Anadarko filed a Motion in Limine asking the court to disallow any testimony or other evidence regarding Anadarko's fault in causing the event. The court granted Anadarko's motion twice before, resulting in no evidence of Anadarko's fault being admitted at either of the earlier two phases of the trial.