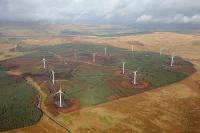 Andershaw Wind Farm, Statkraft's 36.3 megawatt onshore wind project located in South Lanarkshire, Scotland, is now fully operational.
Construction of Andershaw began in late 2015. The civil infrastructure works were completed by Scottish contractor R J McLeod and the electrical infrastructure works were delivered by Powersystems UK.
The wind farm consists of 11 Vestas V117 wind turbines which were delivered in parts to Inchgreen Dock near Greenock and King V Dock near Braehead. The various components were then transported as separate loads and assembled at site between July and October 2016.
The construction of the wind farm has been a boost to the local economy with around GBP 2.5 million being spent in the region on items ranging from aggregates, to steel, transport and local plant and machinery hire.
Around a third of the workforce on site during construction came from South Lanarkshire and 3 full time jobs have been created in the region to support operations.
Now fully operational, Andershaw Wind Farm will make a valuable contribution to Scotland's ambitious renewable energy targets, providing clean electricity to meet the needs of approximately 23,400 homes annually.
David Flood, Vice President of Asset Ownership UK at Statkraft, says, "We're delighted to see this important project reach completion with all turbines now fully operational."
"The completion of Andershaw Wind Farm marks the culmination of several years of effort to safely and responsibly deliver this large energy project. I'm especially pleased at the success we've had delivering regional economic benefits from the construction activity."
During the life of the wind farm Statkraft will pay GBP 2.2 million into the South Lanarkshire Renewable Energy Fund as a way for the project to provide meaningful financial assistance to local projects and initiatives. The fund is already open for applications from nearby groups, societies and organisations.
A further GBP 800,000 will be spent on a Forestry Habitat Management Plan to restock the site with mixture of conifers and native woodland to encourage local biodiversity.
The project is Statkraft's third onshore wind development in Scotland, and follows on from the successful construction of the 52.5 megawatt Baillie Wind Farm and the 66 MW Berry Burn Wind Farm, which became operational in 2013 and 2014.