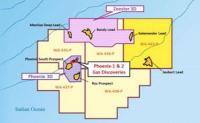 Carnarvon Petroleum Limited report that the Phoenix South- 1 well has successfully set the 9 5/8" casing in the side-track well and is drilling ahead.
As at 12:00 hours today the well was drilling ahead at approximately 3,750 meters MD in the final hole section.
The primary targets for the Phoenix South-1 well are the interbedded sandstones, siltstones and claystones of the Middle Triassic Lower Karaudren Formation and Early to Middle Triassic Locker Shale. These sands are expected to be intersected while drilling this final hole section.
The well is expected to take approximately three weeks to complete drilling.