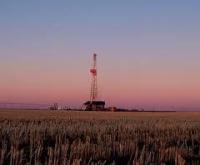 Apache Corporation announced a second-quarter 2015 net loss of $5.6 billion, or $14.83 per diluted common share, which includes an after-tax ceiling-test write down of $3.7 billion resulting from current low commodity-price levels and $1.9 billion of other items, mostly after-tax losses and tax expense associated with the company's assets sold during the quarter.
When adjusted for certain items that impact the comparability of results, Apache's second-quarter net income totaled $82 million, or $0.22 per share. Adjusted EBITDA from continuing operations was $1.3 billion. Worldwide reported production for the second quarter was 564,000 boe per day. Including 35,000 boe per day of production associated with discontinued operations in Australia, Apache's total production was 599,000 boe per day.
"I am pleased to report that Apache made excellent progress toward achieving the ambitious 2015 goals we laid out earlier this year," said John J. Christmann, IV, Apache's chief executive officer and president. "In February, we established a plan to maintain relatively flat pro forma production in 2015, despite an aggressive 60 percent reduction in budgeted capital expenditures from 2014 levels. Year to date, our capital spending remains on track, but we have exceeded our production plan in the first half of 2015 and delivered correspondingly strong cash flow from continuing operations. As a result, we are raising our 2015 production guidance."