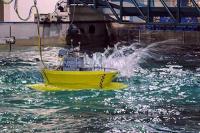 Under a program organised by the Research Partnership to Secure Energy for America (RPSEA), Doris Inc., the Offshore Technology Research Center (OTRC) at Texas A&M University and Sevan Marine have carried out further research and model scale testing of Sevan Marine's cylindrical hull for application in GOM ultra deep water.
The model tests at OTRC confirm the favourable motion characteristics of the Sevan Marine design enabling the application of with Steel Catenary Risers (SCR) and permanent mooring in even the harshest hurricane conditions.
Further research and testing is planned in order to bring Sevan Marine's patented SCR concept to its full potential. Sevan Marine is confident that this can be a game-changing technology for deep water offshore applications particularly in the US Gulf of Mexico's outer continental shelf in years to come.