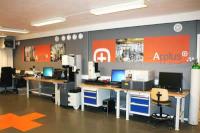 Applus+ Laboratories, the testing and Certification division of Applus+ Group, has achieved international accreditation at its new facility in Bryne, Norway.
Designed to provide industry-leading mechanical, metallurgy and corrosion testing services to the global oil and gas industry, the new facility will see Applus+ Laboratories complementing its destructive testing with the addition of integrity technology services provided by Applus RTD.
The NS-EN ISO 17025 accreditation, which is recognized both nationally and internationally, was granted shortly after the facility opened in the heart of Stavanger's oil and gas hub and is another milestone for Applus+ as it positions the company as a global leader in destructive and non-destructive material testing.
The announcement comes after group member company Applus RTD unveiled its most sophisticated 3D modeling system – the latest addition to its revolutionary NDT3D technology range – the RTD IWEX, which provides increased probability of detection of defects within welds, as well as more accurately detailing thesize, position and characterization of faults.
Nicholas Smith, manager of Applus+ Laboratories Norwegian facility, said: "We have begun working with some of the oil and gas industry's biggest names through our laboratory here in Bryne, with the main players of the oil and gas industry among our growing client base."