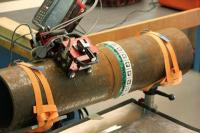 Applus+ RTD has been awarded a two-year frame agreement with Australian LNG operator Woodside Energy Ltd.
The agreement is for a term of two years (with options covering a further two) and will see Applus+ RTD supply inspection and integrity management services across Woodside´s operated onshore and fixed offshore assets.
Applus+ RTD has had engagements with Woodside for 25 years and believed it was successful in winning this frame agreement due to its specific and market leading technical expertise in a wide range of relevant services supported by a leadership team working in close partnership with Woodside focused on achieving continual improvement in efficiency and outcome. A total of 70 dedicated staff will work on the contract supported by Applus+ RTD global resources.
The agreement will encompass Applus+ RTD's key offerings including Conventional and Advanced Non-Destructive Testing (NDT), rope access and inspection engineering.