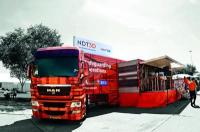 Applus RTD will demonstrate the innovative technologies in its non-destructive testing (NDT) range at the Rocky Mountain Energy Summit in Denver, Colorado from 4-7 August.
The technologies include Applus RTD's latest augmented reality system in conjunction with the RTD IWEX (Inverse Wave Field Extrapolation), RTD Rayscan, as well as the RTD INCOTEST (INsulated COmponent TESTing) - methods used to deliver technical assurance and improve integrity management.
Driven forward by an innovative research and development program, the augmented reality application has been integrated into the RTD IWEX system which allows detailed inspection and mapping of defects within critical pieces of pipework. It provides users with a 3D image of the inspected object, giving clearer insight into the scale and nature of any existing defects.