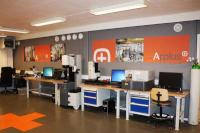 Applus RTD will showcase its innovative RTD Plant Master technology at the American Petroleum Institute (API) Inspection Summit in Galveston, Texas, from 26-29 January 2015 at booth #616.
RTD Plant Master is a permanently installed monitoring system, based on ultrasound, which provides continuous wall thickness measurements of critical and hard to access components within refineries, chemical plants, power plants and offshore facilities.
Employing high temperature piezo-ceramics, sensors are applied to ultra-thin foils resulting in flexible ultrasonic transducers which can be permanently dry-coupled directly to the surface of a component. These transducers are then used for single point pulse-echo measurements of the component's wall thickness.