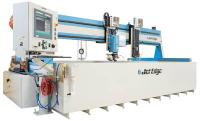 Jet Edge, Inc. says that its longtime U.K. mobile waterjet dealer Aquablast Ltd. has added Jet Edge precision waterjets to its extensive product line.
Based in Beccles, Suffolk, with service centers in the Mediterranean and the Arabian Gulf, Aquablast has represented Jet Edge waterjets for more than 20 years and has extensive knowledge of ultra-high pressure waterjet technology and its countless applications.
In addition to representing Jet Edge, Aquablast also manufactures its own line of waterjetting equipment and carries a wide range of mobile waterjet systems and support products. The company also offers mobile waterjet cutting and surface preparation services and safety training.