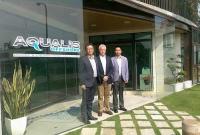 Marine and offshore engineering consultancy Aqualis Offshore, part of Oslo-listed Aqualis ASA, has opened up an office in Taiwan to support local offshore wind and oil and gas developments.
The purpose of the office is to promote Aqualis Offshore's marine and engineering services locally, and to support the development of sister company Offshore Wind Consultants' offshore wind energy projects in Taiwan. The company's Taiwan office is a representative office of Aqualis Offshore Pte Ltd in Singapore.
"Taiwan has a rapidly growing offshore wind sector as well as certain requirements for offshore engineering and marine survey services. Aqualis Offshore and Offshore Wind Consultants provide senior competence for the offshore sectors, so we believe that our experience can be utilised well in Taiwan," says Phil Lenox, director – Asia Pacific, Aqualis Offshore.
In December 2016, Offshore Wind Consultants Limited was appointed by a Taiwanese renewables company to provide consultancy services related to wind turbine installation vessels and their suitability for different wind turbines and site locations offshore Taiwan. Under the contract, OWC is currently providing technical due diligence services to assess vessel suitability for wind turbine installation in the Taiwan Strait.
Aqualis Offshore is a specialised marine and offshore engineering consultancy focusing on the shallow and deep-water segments of the offshore oil and gas industry as well as the offshore wind industry.