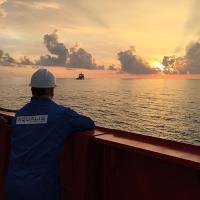 Marine and offshore engineering consultancy Aqualis Offshore expands its service offering to include drilling rig inspections, covering all industry audit and inspection requirements.
The company has built up a dedicated and specialist rig inspection team, which will utilise multi-disciplined engineers with decades of practical rig inspection experience to provide regulatory compliance and equipment operability assurance to rig owners and operators.
"Rig moving, jack-up engineering, offshore transportation and installation, and marine warranty services already represent a large portion of our work. Over the past few years, clients have increasingly asked us to support them with rig inspection services too. Hence we have recruited specialist personnel to lead us forward," says David Wells, CEO of Aqualis Offshore, which is part of Oslo-listed energy consulting group Aqualis ASA.
Aqualis Offshore will provide a range of inspection services from the development through to the execution of bespoke rig inspection and acceptance programs for drillships, semi-submersibles and jack-up rigs of all generation types. In addition, the team can cover land rigs and provide more focussed and bespoke rig inspections to meet clients' exact requirements, such as well control, dynamic positioning or integrated control management system inspections.
"We also aim to be able to support offshore drilling rig reactivation activities and rig selection consultancy. Conversely, if required, we can provide rig preservation assessments," adds David Wells.
Aqualis Offshore's rig inspection team will also assist with pre-rig selection assessments to ensure that clients maximise their asset potential during drilling operators' rig selection programmes.
Aqualis Offshore is a specialised marine and offshore engineering consultancy focusing on the shallow and deep-water segments of the offshore oil and gas industry as well as the offshore wind industry.