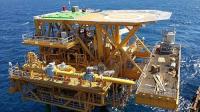 Aquaterra Energy, a global offshore engineering solutions provider, has designed, fabricated and installed a new Sea Swift platform for PICO Petroleum Integrated Services, the lead contractor for Amal Petroleum Company's (AMAPETCO) Amal field in the Gulf of Suez, offshore Egypt. This will open new opportunities for future cooperation between the two entities in large projects both in Egypt and the Middle East.
The Sea Swift is a Conductor Supported Platform (CSP) and is installed in 23 metres water depth. It included a 385-tonne topside featuring a helideck and emergency accommodation with provision for six wells. The new topsides facility for the Amal-C platform involved designing process, piping, electrical, instrumentation, control system and technical safety scopes of work, the project also included the design of the new subsea production pipelines to the Amal-A platform. The project, which took 18 months from design to installation, involved building a bridge link to the neighbouring Amal-B platform and reconfiguring the topside pipework to create a new and improved production profile.
George Morrison, managing director of Aquaterra Energy says, "The Sea Swift platform is an ideal solution for shallow water field developments as it can be delivered from concept to completion quickly. This project will bring AMAPETCO significant cost and efficiency savings. Aquaterra also designed the new subsea production pipelines to the Amal-A platform. We are extremely proud to be working closely with PICO Petroleum Integrated Services, the independent Egyptian integrated services provider, to deliver this flagship project from design to delivery."
The Sea Swift platform is a modular system that unites the advantages of a platform with the rig-run benefits of a subsea development. Several Sea Swifts are currently in operation globally in shallow water locations in Asia Pacific and West Africa. The field proven technology helps customers achieve reduced platform costs, lower installation and intervention costs, and simplified project management. It can also rapidly increase production from platforms constrained by existing slots enabling wells to be drilled, completed with dry trees and installed before the arrival of the main processing platform.
"The deployment of CSPs is increasing due to growing demand for modularised wellhead platforms which can be built and installed in smaller, discreet packages across a number of fabrication yards," added George Morrison. "The bespoke design also negates the need for diver or ROV involvement and any hot work which mitigates inherent risk and scheduling barriers, while cutting incremental costs. In addition, it can also potentially increase local content if this is an economic or political driver for the project."
Shady Kabel, managing director of PICO Petroleum Integrated Services, adds, "Aquaterra Energy has designed, fabricated and installed the Sea Swift platform in this shallow water field efficiently. The benefits of the CSP have contributed to invaluable project management expertise, which allows production from Amal-C to begin with confidence."