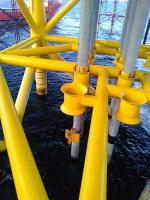 Aquaterra Energy, a global offshore engineering solutions provider, has secured a multi-million pound investment from EV Private Equity as the company gears up for service expansion and new technology launches.
The deal is the first to be agreed following EV's pledge last year to invest USD 200 million in North Sea businesses with new technologies and high growth potential. The independent private equity firm confirmed it was seeking to invest between USD 10 million to USD 40 million in each company.
Aquaterra, which has operations in Aberdeen, Norwich and Cairo provides riser systems, offshore structures and rental equipment to the global oil and gas industry. The company recently designed, fabricated and installed a new Sea Swift platform for PICO Petroleum Integrated Services, the lead contractor for the Amal field in the Gulf of Suez, offshore Egypt. In another multi-million pound contract, Aquaterra is supplying high pressure riser equipment for a subsea abandonment project in the central North Sea.
Aquaterra is also seeing growing interest from operators in its specialist WellStart service, which minimises third party interfaces in early stage well construction, providing the expertise to overcome the technical and economic challenges in setting out the first phase of the well.
George Morrison, managing director of Aquaterra Energy says, "We have a robust plan for service and product expansion including a strong focus on our WellStart capability and the investment will help us to fuel the growth of the business. EV's support to the existing management is a vote of confidence in the hard work of the team and the success that has been achieved during what has been a challenging period for the industry."
"We have exciting opportunities for ongoing investment in new technologies and will be looking to maximise value from our innovative field development solutions including Sea Swift, WellStart and riser analysis. We look forward to working together with EV to continue to deliver the high quality, high value products and services needed by our customers in the improving oil and gas environment," adds Morrison.
Greg Herrera, Senior Partner at EV, comments, "EV is excited to partner with Aquaterra and to have the opportunity to work with the company's talented management team and employees. We believe this will be an excellent platform for both organic and acquisition based growth opportunities."
Tomas Hvamb, Investment Director at EV, says, "We believe that the company's core offering, providing net lower cost solutions, resonates in today's capital constrained market and furthermore that there may be excellent synergies to be realized with other companies in the EV portfolio."
As part of the deal a re-finance package has been agreed with HSBC. Keith Robertson, Associate Director, Leveraged Finance Scotland, commented: "HSBC welcomes this opportunity to support the next phase of development for this innovative and internationally focussed oilfield services company, which is well positioned to capitalise on current market dynamics. We look forward to working together with Aquaterra's highly regarded management team and sector specialist investors EV Private Equity over the years to come."