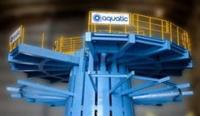 Aquatic Engineering & Construction Ltd, an Acteon company, has unveiled its 1500 te carousel, a powerful, modular drive system representing a significant capability extension for customers requiring installation or replacement of flexibles, umbilicals, power and telecommunication cables and wire rope products.
Installation in deeper water(s) has become a recent trend in the subsea market, often being performed in depths ranging from 2000-3000m. However installation, replacement or recovery work at this depth requires specialist equipment to accommodate the increasing length and weight of the items being installed. Aquatic's carousel system provides the strength and stability that can withstand the installation of the heaviest equipment in deep water.
In addition, Aquatic is assisting its customers on projects that demand increasingly long subsea tie-backs to processing platforms thereby demonstrating the carousel's undoubted capability and flexibility in all waters.