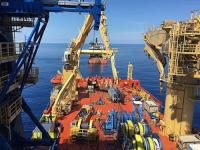 Aquatic Engineering & Construction Ltd., an Acteon company, and recent alliance partner James Fisher Offshore Ltd (JFO), have completed their first global collaboration project for Ocean Installer Texas Inc. in the Gulf of Mexico (GOM).
The project scope includes recovery and reinstallation of moorings lines on a GOM production facility in ultra-deepwater (>1500 metres). Working in partnership, Aquatic and JFO provided a full back deck solution and equipment spread which delivered significant cost savings and minimised interfaces for the client.
Commenting on the project, Aquatic's Americas regional manager, Bob Terrell states, "This alliance was created for precisely this type of project where a client requires a fast turnaround, a range of equipment easily accessible and a team of experienced technicians who will ensure the operation runs smoothly and efficiently. This inaugural project, which mobilised in late April, clearly demonstrates how the Aquatic and JFO alliance adds value to our clients, delivering a more coordinated approach at the local level while bringing together two highly-skilled and dedicated teams whose expertise reaches around the world."
"In terms of equipment, this is also a testimony that Aquatic's decision to ramp up our presence and inventory in the region is providing demonstrated benefits to our clients. We now have three tensioners systems, five powered reel drive systems and supporting equipment available at our base in Morgan City, Louisiana locally trained and qualified technicians to support North and South America markets," Terrell adds.
Aquatic's equipment included an 80Te Powered Reel winch with a track system for multi-reel lay and a 20Te tensioner for handling the mooring lines. JFO's equipment included a 100Te subsea winch for critical lifting operations as well as a 30Te and two 20Te deck winches for deck handling operations. The equipment was operated by a six-man offshore crew made up of four Aquatic and two JFO technicians. The project was completed on schedule and without incident.
Jack Davidson, managing director at James Fisher Offshore, says, "We're extremely pleased this partnership demonstrates clear added value to our customers' key projects through efficiency and combined expertise. JFO and Aquatic have developed an excellent relationship that enables us to respond to customer requirements swiftly on a global basis, utilising our combined resources and strategic bases."
Geir Hammer, Project/Engineering Manager at Ocean Installer Texas Inc., says, "Ocean Installer is pleased to have further developed our working relationship with Aquatic during the successful execution of this project. It is, as always, essential for our joint successes that we are able to continue strengthening our key client and operator relationships by demonstrating and offering solid management and engineering and safe and efficient offshore operations to ensure successful delivery of their projects."