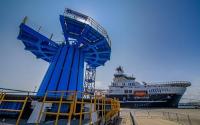 Aquatic Engineering & Construction Ltd, an Acteon company, is subcontracted to Bibby Offshore Limited to replace subsea infrastructure in the Central North Sea as part of BP's USD 1 billion Eastern Trough Area Project (ETAP) Life Extension Project. Aquatic will deploy its carousel system to install 35 kilometres of umbilical ensuring electrical control capability between ETAP's central processing facility and the Machar field.
The umbilical lay campaign is scheduled to commence in June and is expected to last approximately 30 days. This is the first phase of Bibby's five vessel campaign, involving trenching, structure and riser installation followed by electrical diagnostics and commissioning works. Aquatic has also been subcontracted to provide lay equipment and personnel for the riser installation campaign in September of this year.
ETAP, located 240 kilometres east of Aberdeen, is one of the largest and most complex developments in the North Sea, comprising nine oil and gas reservoirs, six of which are operated by BP. The ETAP Life Extension Project (ELXP) will help secure the future of the fields until 2030 and beyond.
Aquatic will be providing a team of offshore supervisors and technicians to mobilise and operate its on-deck 1,500-tonne carousel and integrated five-tonne tensioner system, as well as a 15-tonne two-track tensioner complete with all ancillary equipment.