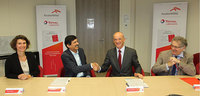 Total Lubrifiants, global lubricants provider and steel and mining company ArcelorMittal have signed a 3-year European supply agreement related to the purchase of a complete range of maintenance lubricants, technical support and associated services.
The deal marks more than 20 years of partnership between both Groups. It ensures the security of supply, enjoying the benefits of Total's worldwide presence. The core of the agreement concerns highly efficient lubricants which increase the reliability of steelmaking equipment. The agreement optimises the cost, including the cost of maintenance operations and the lifecycle of key assets and equipment, minimising downtime and production losses. The collaborative approach of both companies reflects perfectly ArcelorMittal's strategy to be the most efficient and competitive producer of steel products.
"Today, we expect from our partner not only favourable commercial conditions, but also lubrication improvement programs to increase the productivity of our assets. Total Lubrifiants is a proven partner introducing the Total Cost of Ownership approach," says Sanjay PANDYA, General Manager of ArcelorMittal, European Procurement Organisation.
"Focusing on the steel industry is a strategic choice for Total Lubrifiants made a long time ago. Currently, steelmakers are focused on efficiency and cost reductions. A long-term partnership with ArcelorMittal allows us to introduce new lubrication solutions aimed at equipment efficiency, and increasing the profitability of production sites," declares Mathieu SOULAS, CEO of Total Lubrifiants.
The partnership of Total Lubrifiants and ArcelorMittal represents a focus on the future and on mutual performance.