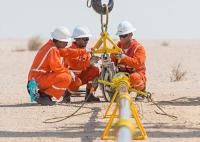 Archer, a global oil services company and well integrity specialist, has launched the Point® system, a powerful well integrity resource that combines Archer's proactive and systematic approach to integrity management, with its unrivalled experience in over 4,000 integrity-related deployments worldwide.
Deployed proactively and systematically at the surface and downhole, the Point system offers a new approach to well integrity. The system leverages Archer's deep understanding of integrity dynamics – what Archer defines as the behaviour of the well system in response to its integrity – to unravel, decipher and describe what is happening in the well and locate integrity failures. Much of the technology is field-proven with different elements of the Point system having been used in over 2,000 successful deployments worldwide but never as one complete, proactive system with integrity dynamics at the core.
The Point system combines the right integrity measurements, expert assessment and analysis to evaluate barrier performance and identify the precise location of leaks and flowpaths without pulling the completion string. Underpinned by the Point system's powerful integrity diagnostics and proprietary ultrasound technology, oil and gas operators can look forward to:
Proactive and systematic integrity management that mitigates the risk of costly surprises with minimal interruptions to production. The Point system starts with a client consultation to develop a common understanding of the integrity challenge followed by an initial surface investigation and then – if required – downhole deployment.
The complete integration of surface and downhole measurements, generating vital information on the well and providing operators with the ability to meet the simplest or most complex integrity challenges routinely and cost-effectively.
The evaluation of barrier sealing performance rather than barrier condition and the ability to locate leaks and flowpaths beyond the tubing to provide a secure and comprehensive approach to integrity management.
Ken Feather, Vice President, Marketing and Sales Wireline at Archer says, "The industry is at a tipping point. When it comes to maximising well performance, we need to look beyond a focus on reservoir and production dynamics and embrace a third equally crucial pillar – integrity dynamics. Understanding this is key to managing wells safely and profitably."
"Our Point system provides the most complete insight into integrity dynamics available in the industry today, enabling operators to locate barrier leaks and flowpaths throughout the well system efficiently, accurately and comprehensively. This means better decisions on remediation more quickly, improved well profitability, and most important of all – reduced integrity risk," continues Feather.