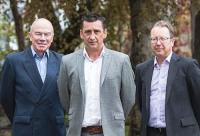 Ardyne, provider of specialised plug and abandonment and slot recovery technology and services to the global energy industry, has appointed Paul Warwick as a non-executive director and Adrian Bannister as chief financial officer. In a move that underpins the company's drive to challenge current models for decommissioning, both Warwick and Bannister will play crucial roles in Ardyne's ambitious growth plans.
Warwick has many years of successful experience in the international oil and gas industry. Spending more than 30 years at ConocoPhillips, he was a regional president for Europe, Africa and the Middle East, before moving to Talisman Energy Inc. where he was the Executive Vice President for Europe, South America, North Africa and the Middle East, as well as being responsible for the company's corporate technical functions. He was also the Chairman and interim Managing Director of TalismanSinopec and co-chair of Oil and Gas UK.
He will play a wide role in Ardyne addressing issues affecting the growing decommissioning market including guiding the company as it grows to meet the needs of both government and operators.
Warwick says, "Ardyne is a focused technology and development company that will operate in the important sub-surface decommissioning area of the global oil and gas sector. As global decommissioning activities increase, those involved are facing ongoing technical challenges to deliver the service. Lower cost and more effective solutions are needed and we believe that Ardyne's technology and approach can offer our customers real possibilities to be more efficient and effective in areas such as slot recovery and full well bore decommissioning."
Bannister has more than 20 years' experience in oilfield services. Working at senior levels with a number of private equity backed companies, including Sparrows and Viking SeaTech, he brings a wealth of knowledge in M&A, change management, and internationalisation.
Commenting on his appointment, Bannister adds, "Ardyne is all about delivery and its ethos of faster, simpler, better is absolutely aligned to what our customers want and need. The market potential of this organisation is matched with very ambitious growth plans and a team with the experience, knowledge and commitment to redefine the current thinking around plug and abandonment and slot recovery."
"There is a real focus on delivery and project execution at the heart of this organisation," continues Warwick. "Add to this its commitment to technology advancement and we offer a material value adding proposition. This is an organisation that has been established in the hard times currently affecting our industry so its dynamism, flexibility and absolute focus on reducing rig time, in my view, fits the demands of these times and the pressures facing all industry stakeholders."
Ardyne chief executive officer, Alan Fairweather says, "We are absolutely delighted to welcome Paul and Adrian to Ardyne. Paul brings the operator perspective to our business, which complements the service-driven mentality and background of our management team. Adrian's vast experience in successfully growing international organisations, plus a proven track record in delivering exceptional performance and shareholder returns gives our team considerable strength."