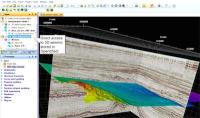 ARK CLS, a developer of geoscience solutions to the oil & gas industry, has released a powerful new data collaboration technology called GeoDataSync (GDS) at the SEG 2013 Annual Conference this week.
At a time when many seismic interpretation workflows are characterized by multiple geoscience interpretation systems and data storage and duplication challenges, GeoDataSync brings order to the workflow, allowing interpreters to use multiple interpretation systems within the same unified workflow. Data can also be accessed without the need to copy it, removing the need to make copies of large seismic 3D data volumes and dramatically reducing storage costs.
The initial implementation of GeoDataSync, which has been sponsored by a major operator, has been developed as a plug-in to Petrel* seismic to simulation software. Through a separate plug-in, GeoDataSync will also allow users access to 3D seismic data volumes and other data stored within dGB Earth Sciences' seismic interpretation system, OpendTect.
"Seismic interpretation today is complicated by so many different geoscience software packages and – through the popularity of large 3D seismic cubes – so much data that it's easy for seismic interpreters to become overwhelmed," said ARK CLS's Managing Director, Adrian Bennetton. "That's why we believe that GeoDataSync is such an important breakthrough."