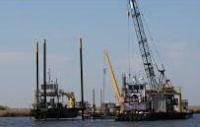 Armada Oil, Inc. has commenced drilling the Bear Creek # 1 well in Carbon County, Wyoming.
The Bear Creek #1 will be drilled to a total vertical depth of approximately 8,457 feet to test a number of deep conventional zones with significant potential as well as to gain valuable information on the quality and potential of the Niobrara Shale on the project acreage.
The Company holds a 100% working interest in the project and expects drilling time to be approximately 15 days. As a result of the commencement of drilling, we have complied with our drilling obligations under the farmout agreement with Anadarko and, thus, retain our rights to the balance of the farmout acreage.