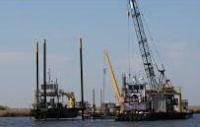 Armada Oil, Inc. reported on various changes to its executive management team and board of directors in anticipation of increasing drilling and production management activity.
J. Clint Unruh has been promoted by the Company to the position of Chief Operating Officer ('COO'). Mr. Unruh was previously Executive Vice President - Land and Administration. He will now be responsible for direct oversight of all land, drilling and operational personnel and activities and will assist the CEO with a number of day to day administrative functions.
Ray L. Unruh, who co-founded the Company in 2003 along with Randy M. Griffin, CEO, will now serve as Executive Vice President in addition to his previous roles as Corporate Secretary and a member of the board of directors. Mr. Unruh will assist the CEO and COO in the evaluation of drilling and acquisition opportunities and the planning and implementation of drilling programs.