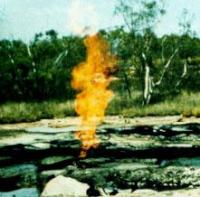 The Directors of Armour Energy are pleased to advise that the Egilabria 4 gas exploration well has reached total depth at 1,839 metres. The well was drilled on time and within budget, achieving all well objectives, and very good rates of penetration of up to 50m/hr with the use of air hammers.
The well first encountered gas at 344 metres through to 417 metres at the base of the Mesozoic Carpentaria Basin section, underscoring the prospectivity of that sequence in the areas of structural closure.
The next significant gas shows were encountered in the Lawn Shale Formation which was penetrated as expected between 1,060 and 1,200 metres. A stronger than expected build up of pressure to 70 psi was noted in a number of desorption canisters filled with cuttings from this interval.