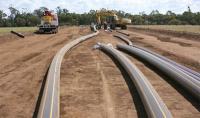 Arrow Energy has welcomed Federal Government approval of the Arrow Bowen Pipeline environmental impact assessment.
The proposed central Queensland pipeline, expected to be about 500km in length, will take coal seam gas (CSG) from Moranbah in the Bowen Basin to Gladstone.
Arrow CEO Andrew Faulkner said the environmental approval followed last month's Queensland Government approval of an environmental impact statement (EIS) for Arrow's Bowen Basin gas field development and the company's announcement of FEED (front-end engineering design) for the development of the Bowen Gas Project.