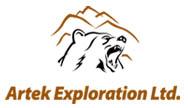 Late in the fourth quarter, Artek drilled a successful Doig horizontal well and Montney horizontal well from the same surface pad at 10-17-87-23W6M in the Inga South area, where the Company had encountered particularly thick Doig sands and high natural gas liquids rates from a previously announced step out well at 13-16-87-23W6M.
After a 135 hour flow period, the well was flowing up production tubing at a rate of 4.2 mmcf/d (9% load propane) and 1,003 bbls/d of condensate over the last 24 hours at 907 PSI, or a total rate of 1,639 boe/d (net of load) of which 61% was condensate.
The well represents another exceptional result in the emerging Inga South area. The initial liquids rates are some of the highest realized on the play and as a result the Company is considering significantly increasing the number of stages utilized in the fracture stimulation process, consistent with industry developments in adjacent areas.