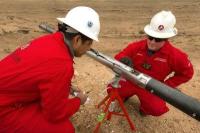 Artificial Lift Company's Advantage™ Rigless Electrical Submersible Pump (ESP) System was successfully pulled and reinstalled at a ConocoPhillips West Texas well and has been in continuous service for more than 180 days.
The Advantage Rigless ESP System is a through-tubing, slick-line conveyed lift solution that is unique within the industry and is compatible with industry standard surface and downhole hardware.
This solution reduces operating costs by eliminating the need for a workover rig at remote wells, offshore locations and sites with challenging conditions.