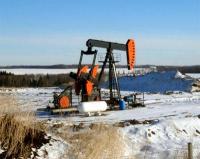 Artisan Energy Corporation has completed drilling of the first two wells of its 2015 Canadian Exploration Expense flow-through program and both wells have been cased for testing and production. Approximately $1,600,000 of Artisan's $5,130,000 2015 CEE budget and obligation has been spent.
Chip Lake, Alberta
At its Chip Lake core area Artisan drilled the vertical well Artisan Wildwood 9-19-53-9W5 which was cased as a new pool gas discovery just before Spring break-up. Plans are underway to resume operations and complete, stimulate and test this well as soon as road bans are removed. Artisan's management has determined best estimate discovered gas initially-in-place of 7.0 Bcf as at March 31, 2015 on its 100% owned lands in this new pool.
Artisan expects that at least one horizontal well will be required to develop this pool. Based on comparative gas analysis available as at March 31, 2015 from similar pools on trend and assuming processing at a midstream deep cut facility, Artisan estimates that gas from this pool will yield 40 to 50 barrels of hydrocarbon liquids per MMcf of sales gas with an approximate 20% shrinkage from raw gas volumes.