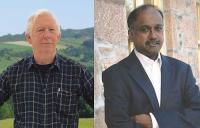 Aberdeenshire-based AS Mosley – specialist engineering consultancy which provides bespoke analysis and design services to the offshore oil and gas industry – has appointed Dr Andrew Trim and Dr Appapillai Thavalingam to its senior management team as it prepares to strengthen existing capabilities. Both bring the combined experience of its senior management team to well over 100 years.
Dr Trim takes up a consultant engineer position with the company and holds over 30 years' experience in both performing and supervising dynamic analysis work. His responsibilities in his new role will include overseeing a range of AS Mosley's riser analysis projects as well as playing an integral part in the company's ongoing enhancement of its methods of work. Andy has published over 20 papers and articles on riser dynamics, response statistics, VIV, fatigue and riser design.
Dr Thavalingam links up with the company in a principal analysis engineer role and brings with him over 25 years of specialist engineering experience, including in the design and numerical analysis of various systems including shallow water conductors, deep water risers and flexibles.
Having held a number of senior positions within the industry, most recently as a principal analyst at Aquaterra Energy in Norwich, Thava is a chartered engineer, a member of both IMarEST and MRINA and is a published author in over 20 journals and papers.
Andrew Mosley, managing director of AS Mosley, says, "Both Andy and Thava have already shown in their time with us that they will be an asset to the company moving forward and we are delighted to have two highly experienced and respected engineers join the company. AS Mosley prides itself on the calibre of its engineers and as well as leading from the front in terms of knowledge and industry insight, both Andy and Thava will also have an important role to play in the continued development of our younger engineers."