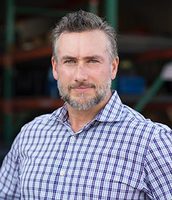 Global subsea equipment specialists, Ashtead Technology, has strengthened its leadership team with the appointment of Steven Thrasher as regional vice president for the Americas.
Bringing almost 20 years' experience in the subsea industry, Thrasher, who will be based in Houston, Texas, will head up Ashtead's US operation as it gears up for further growth in the Gulf of Mexico (GoM) and neighbouring markets.
Prior to joining Ashtead, Thrasher held a number of senior and technical positions at FTO Services, C-Innovation and Schilling Robotics.
He began his career in the oil and gas industry in 1998, when he joined Sonsub as a ROV technician where he eventually advanced to ROV Superintendent, delivering the mobilisation and commissioning of several high-profile projects.
Thrasher has established a successful track record with key oil and gas operators and brings extensive experience of developing sales within the GoM marketplace as well as internationally.
At the same time, Chris Echols will take on a newly created role of vice president of sales for the Americas. Chris, who has over 20 years' experience with Ashtead will focus on delivering growth in existing and new markets across the region.
Allan Pirie, chief executive of Ashtead says, "Over the past 18 months we have focussed on maintaining a strong service offering that is fit for the challenges of the market, improving the execution of projects, driving greater efficiency and lowering operating costs where possible."
"Our focus now turns to growth and execution of our business development strategy. Steven's appointment and Chris' new role strengthens our ability to offer great service, develop a solutions based capability and identify opportunities to grow with both existing and new customers. Current market conditions create challenges and opportunities, and having the right organisation in place is key. I am confident these two appointments will allow Ashtead to be successful in the GoM market in the long term," Pirie adds.