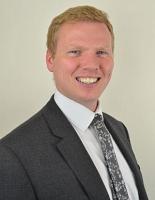 Subsea equipment specialist Ashtead Technology has announced the appointment of Scott Stephen as its new Non-Destructive Testing (NDT) sales manager.
Based at the company's headquarters in Aberdeen, Scott will be responsible for business development and general sales and rental of NDT equipment and accessories, including phased array, ultrasonic flaw detection, corrosion mapping, eddy current flaw detection, hardness testing, composite inspection and thickness management.
Scott joins Ashtead from RSL NDT where he held the role of UK manager and was previously with Euro NDT as general manager, both based in Aberdeen.
The move comes as the independent firm, which has facilities in Aberdeen, London, Abu Dhabi, Houston and Singapore, recently gained certification from the United Kingdom Accreditation Service (UKAS) for the calibration of NDT equipment and has expanded its NDT equipment rental fleet.
Allan Pirie, chief executive of Ashtead Technology, says, "At the beginning of 2017 we mapped out growth plans for our NDT department and Scott is very much part of that strategy. We're delighted to welcome him into the team and look forward to pushing forward with our plans, particularly having also recently secured further UKAS accreditation. We continue to strengthen our team and our collaborative network of suppliers in order to offer the most reliable, innovative and cost effective equipment solutions to our customers."
Having previously gained UKAS accreditation for the calibration of survey, positioning and oceanographic sensors, this most recent approval also covers the delivery of calibration services for ultrasonic testing equipment used by NDT inspection companies.
From its state-of-the-art laboratory in Aberdeen, Ashtead provides calibration services to the internationally recognised UKAS standard 17025. All calibrations are carried out by qualified, trained engineers in accordance with all major equipment manufacturer specifications.