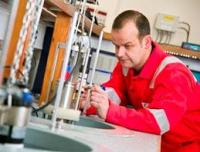 International subsea equipment solutions specialist, Ashtead Technology, has strengthened its service offering with the verification of its calibration facilities, demonstrating further support capabilities to its customer base.
The calibration laboratory located in the company's Aberdeen headquarters has received Valeport calibration verification, making it one of only a few UK companies to hold the honour. The verification covers all conductivity, temperature and depth (CTD) and sound velocity products that Valeport manufactures.
Allan Pirie, Ashtead Technology CEO, said: "We are proud to announce the Valeport verification of our calibration lab, which represents tireless work from our calibration manager and engineers, as the lab had to go through thorough testing to meet rigorous standards. Our calibration engineers have built the lab from scratch and watched it grow from strength to strength.
"At Ashtead Technology, we are dedicated to putting our customers first and providing the service excellence that they have come to expect. This verification is another testament to the high levels of engineering and technical support that we offer to our global customer base."