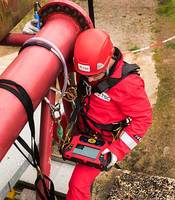 Global subsea equipment specialist, Ashtead Technology has signed a 5-year global collaboration agreement with Technical Software Consultants Limited (TSC), part of Eddyfi Technologies, for its Alternating Current Field Measurement (ACFM®) instruments.
The agreement will see Ashtead Technology combine TSC's ACFM® equipment rental fleet with its own rental fleet and will manage all rental activity worldwide for the Amigo™ and U31™ subsea systems, as well as the latest PACE® instrument.
Acquired by Eddyfi Technologies in May 2017, TSC has significantly contributed in shaping the landscape of electromagnetic testing technologies over the last 30 years. The ACFM® technology is specified by owners and operators of safety-critical infrastructures worldwide and is accepted as one of the most reliable methods of detecting and sizing surface-breaking cracks in metallic components and welds. ACFM® equipment can be utilised topside and underwater, up to depths of 2,000m and can be deployed remotely.
Allan Pirie, chief executive of Ashtead says, "This is a significant agreement for Ashtead allowing us to expand our NDT service offering and broaden the availability of ACFM® across multiple markets. TSC has an outstanding reputation in quality assurance which is of the highest priority for our customers and we look forward to working closely with the Eddyfi team in the coming years as they develop this market leading technology further."
Martin Thériault, Eddyfi president and CEO says, "Ashtead Technology already benefits from a global presence for subsea and topside rentals and has been strongly committed to ACFM® technology for more than 20 years. This deal will allow TSC and Eddyfi Technologies to refocus on technology and high-level engineering to help the industry benefit from ACFM® in a new way."