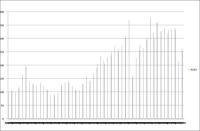 Steep price falls in Asia, an easing of prices for the major olefins and polyolefins in Europe and a lower propylene price in the US helped drive the global ICIS petrochemical index (IPEX) lower for July.
The global IPEX was down 2.6% month to month at 253.52 from a marginally revised June level.
A feature of the global petrochemical markets in July was the sharp drop in prices for the major products in Asia, led by ethylene but including all the petrochemicals and polymers comprising the regional IPEXs. The steepest price declines in the Asia market were for ethylene (-14.8%), butadiene (-10.5%) and toluene (9.2%). The Asia regional index was down 6.1%.
Ethylene, propylene, polyethylene and polypropylene prices in Europe and Asia had been pushed higher in the second quarter largely on lack of olefins availability and, in Europe, because of the weak euro. The US propylene contract price fell in July by 8.8% and to its lowest level since May 2009 on good availability driven in turn by downstream polypropylene outages and a shift by cracker operators to heavier feedstocks.
The monthly ethylene contract price in Europe rolled over in July but was down 1.8% in US dollar terms. The Europe the propylene contract price down 3.7% in dollar terms – 1.9% in euros.
The fall in prices for the primary olefins and polyolefins was offset by higher benzene and toluene prices in the US and Europe. The US July benzene contract price rose sharply following a steep decline in June. US toluene prices also increased. The July benzene contract price was agreed higher as expected following higher June benzene spot prices, gains in the US market and renewed downstream demand in Europe.