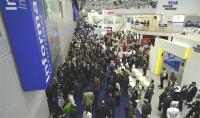 The Offshore Technology Conference Asia (OTC Asia) 2016 was launched at the Offshore Technology Conference (OTC) in Houston. Following the event's inaugural success in 2014, OTC Asia 2016 will be held for the second time from 22-25 March 2016 at the Kuala Lumpur Convention Centre in Kuala Lumpur, Malaysia.
Speaking at the launch, Datuk Mohd Anuar Taib, Senior Vice President, Upstream Malaysia of PETRONAS remarked that the industry needs to increase collaborative efforts given the current business climate, "Like the rest of the world, the industry landscape in Asia is challenged by the new realities in oil prices. Yet, instead of focusing on matters beyond our control, Asia is now positioning itself to set another record of rebound and resilience in responding to the challenges by building on our solid fundamentals of operational excellence and closer regional cooperation efforts. Hence, the theme for OTC Asia 2016 is an ideal backdrop to deliver these aspirations – Excellence in Asia."
The launch featured a grand prize drawing of a round-trip airline ticket to Kuala Lumpur to attend OTC Asia 2016, courtesy of Halliburton. This was followed by a tour of the Malaysian Exhibition Pavilion which featured some of the leading Malaysian industry players – Malaysia External Trade Development Corporation (MATRADE), Malaysia Petroleum Resources Corporation (MPRC), Muhibbah Engineering and Eversendai Offshore – and 16 small- and medium-sized Malaysian enterprises.
Themed "Excellence in Asia", OTC Asia 2016 reflects the region's position as a global provider of technology where cultural and geographical diversity foster collaboration and innovation. OTC Asia 2016 will showcase Asia's achievements, its aspirations, and the important technological developments that the region needs to stay robust and resilient in the shifting global energy market. The growing Asian representation at OTC echoes this sentiment.