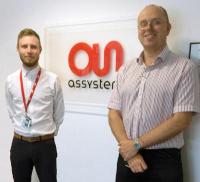 Assystem successfully presented a paper at the NAFEMS seminar which took place in Aberdeen, demonstrating how Assystem can drive value for the oil & gas industry in the current financial climate.
Against a challenging backdrop, the oil & gas industry is currently facing a host of challenges. The integrity management of structures, pipelines and risers in a hostile marine environment, as well as increasing pressure to minimize costs, safety risks, downtime, and emissions all present key challenges for the simulation community.
The accurate representation of the reality of loading and response of offshore installations and their mechanical components requires a multi-disciplinary approach, as well as knowledge of current best practices & standards to deliver the innovative solutions which are required by industry.
The NAFEMS seminar on the 'Latest Developments of FEA & CFD for Offshore Oil & Gas Facilities' explored the latest challenges in the oil & gas industry, and provided an opportunity for attendees to gain an insight into the current applications of FEA and CFD from oil and gas industry experts.