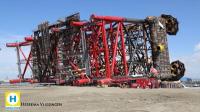 Today at Heerema Vlissingen the 8,500 t DONG Hejre launch jacket, with 8 legs, for client Technip, has been successfully skidded onto the Heerema barge. The jacket measures 60 x 35 x 85 m.
Hereafter the 900 t pre-drilling wellhead deck is scheduled for load out in the first week of May, whereafter it will set sail to its final offshore location for installation in the Danish sector of the North Sea.
Bij Heerema Vlissingen is vandaag het 8.500 t DONG Hejre launch jacket, met 8 poten, voor klant Technip succesvol geskid op de Heerema bak.