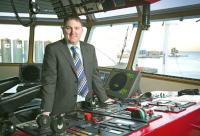 Atlantic Offshore Rescue unveiled the third new vessel in the past 12 months as part of its fleet modernisation programme, representing an investment totaling £300 million.
Ocean Falcon, a brand new Class A Multi Role and Emergency Response and Rescue (MRV/ERRV) vessel, is to be christened at a ceremony at Aberdeen harbour tomorrow, before commencing a contract with a major UK operator. Atlantic Offshore Rescue will provide emergency recovery, rescue cover, tanker assistance and general field support for offshore operations at the Curlew Field, in the North Sea.
The ship can accommodate 21 employees, and has the amenities to rescue up to 300 people. As well as incorporating the very latest technology systems including a towing capacity of up to 65 tons, it measures 66.80 meters in length and 16 meters beam and features two MAN main engines with a power of 1935 kW each.
Ocean Falcon is a new H820 design from Havyard Ship Design. It was built and developed in Passai, Spain by Zamakona shipbuilders, in close collaboration with Atlantic Offshore Rescue over an 18 month period. Its sister ships, Ocean Tay and Ocean Osprey were launched in February and May 2014, respectively.