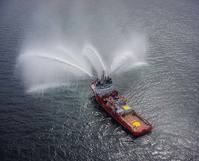 Emergency Response and Rescue Vessel (ERRV) operator Atlantic Offshore Scotland Ltd, has secured a 2-year firm charter with Maersk Oil UK.
The company's ERRV Ocean Troll, will provide Emergency Response and Rescue services for Maersk Oil's Culzean project in the central North Sea. The Charter is the first Fire Fighting Class II (Fi-Fi II) ERRV to have operated in the UK sector.
The charter commenced in July 2017 and will last for a firm period of 2 years, with two 1-year options thereafter.
Atlantic Offshore Scotland Ltd is part of the Norwegian-based Aeogopodium AS and employs circa 210 people (approximately 200 seamen and 10 office-based staff) and provides multi-role ERRVs for many of the oil majors operating in the North Sea.
The 78m Ocean Troll is an ERRV with multirole functionality including Fi-Fi II, with the capacity to accommodate a crew of 21 people. It is managed by the company from its Aberdeen base at Waterloo Quay.
Matthew Gordon, managing director of Atlantic Offshore Scotland Ltd, says, "Robust emergency response is indispensable to all oil and gas operations. Our aim is to cement our position as the UK's leading ERRV supplier for high end multi-role services."
In addition to this contract, Atlantic Offshore will also be renewing its relief vessel with the newly converted Ocean Clever. Built in 2009, the vessel will take over the relief duties of the Ocean Troll and will provide employment for an additional 30 seafarers.
Roy Wareberg, CEO of Atlantic Offshore, says, "It is a great achievement to secure Maersk Oil's Culzean project – not only does it allow the team to support a high-end project - but to further grow our fleet. Our recent conversion of Ocean Clever is something we aim to continue in the coming years as we seek opportunities that fit our niche service offering."
Inclusive of Atlantic Offshore Scotland's range of six ERRVs, the Aeogpodium AS group currently operates a fleet of nine ERRVs and three Platform Supply Vessels (PSVs).
The Group's aim is to continue to expand its capabilities within both the Norwegian and UK sectors of the North Sea and to be able to provide cross-border solutions reflecting the needs of its clients.