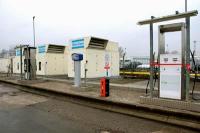 Atlas Copco Greenfield compressors are playing an integral role at the UK's largest Biomethane Compressed Natural Gas (Bio-CNG) filling station in Crewe, in keeping with the company's global commitment to a cleaner environment and sustainable productivity. The newly opened filling station, which is operated by CNG Services Ltd., provides fuel that can offer an 80% reduction in CO2 and NOX emissions, and has the potential to lower transport operators' fuel cost per mile by nearly a third.
Officially opened by MP, Edward Timpson, the station is the largest such facility in the UK, offering a highly reliable fuel supply with the capacity to fill 500 HGV's per day via three fast-fill hoses, and making Crewe a key strategic point for UK transport. The station is already filling five CNG dual-fuel trucks for GIST/M&S, three for Tenens Environmental and one for Ceva Logistics/Tesco.
With oil prices increasing, high diesel cost is a major concern for fleet managers. CNG is a cost-effective alternative fuel solution that will reduce commercial fleet fuel bills, whilst maintaining vehicle performance to a level comparable with that of traditional fuels. With CNG, a typical haulier can expect around a 30% reduc¬tion in the cost of fuel per mile for a dual-fuel tractor unit.