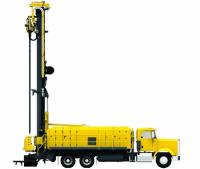 The new Atlas Copco Diamondback drill rig with optional sliding-angle mast drilling capability of 90 to 45 degrees offers drillers precisely the rig they need with shortened lead time. The rig's bolt-on modular components – a new concept in rig design – make it a truly multipurpose rig. Drillers can respond to rapid, after-sale changes in market opportunities and create a rig customized to their needs.
The new rig design features trusted innovations of other Atlas Copco drill rigs. Like the Atlas Copco T2W and Atlas Copco TH60, drilling operations of the Diamondback are PTO driven, powered by the truck's 600 hp engine. An optional deck engine module is available for those who prefer a separate engine for drilling operations.
Safety enhancements include features and options such as hands-free pipe handling and breakout, enlarged operator and helper stands, a table safety cage and catwalks that meet or exceed industry safety standards.