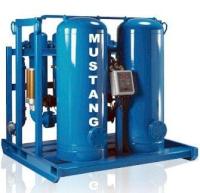 Atlas Copco Rental has acquired the operating assets of Mustang Services, a specialty dryer rental business that primarily serves the rental industry to supplement their existing fleets.
Mustang Services rents out its equipment, mainly adsorption type air dryers, after coolers and filters to the rental industry which service industrial, pipeline and other end-users that require dry compressed air in their processes. The products are often rented together with air compressors to provide customers with a total rental solution.
Dan Dorran is assuming the position of Vice-President of Operations for Mustang Services. Dan has an extensive and long career in the compressed air and accessories rental business.