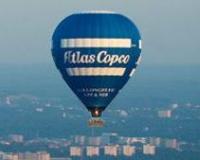 Because of a calculation error in the concrete mix, one of the 13 monoliths piers that make up the spillway of the Columbia River's Wanapum Dam (Southeastern Washington) developed a 64 feet long 2-inch-wide crack.
Fixing the crack required 16-inch boreholes through the dam into the bedrock to facilitate the installation of 61-strand tendon anchors. The dam would be further reinforced by installing stitching bars along its face below the water line. The project would require a large volume of high-pressure air.
Nicholson Construction was awarded the drilling contract and the work required up to 3,600 cfm at 350 psi in an extremely tight working space. Therefore, they chose six Atlas Copco DrillAir ™ XRVS 1300 CD7 high-pressure diesel compressors.
Air support to repair the crack: When the project is completed, 35 tendons will be vertically installed in the monolith piers, as well as 70 horizontal stitching anchors. Nicholson Construction project manager BJ Hepworth said, "This process basically stitches the dam together from top to bottom."