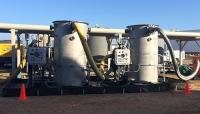 During a scheduled loading of sour crude, Atlas Copco Rental was called to action to supply nitrogen that would inert the H2S prior to entering any type of control device.
Elevated H2S levels can cause breathing problems and can even be deadly at low concentrations releasing strong rotten egg smell in the air. Because the customer site is located close to a major city, Atlas Copco Rental's customer needed a quick solution.
A scrubber system was designed by Envent Corporation to scrub the H2S out of the vapour stream during the regularly scheduled loadings. Nitrogen was used to inert the vapour stream prior to entering the scrubbing system. There were several sources for nitrogen and many bids were placed, but Atlas Copco Rental was the only supplier that could deliver the variable CFM flow while maintaining psi outlet pressure needed for a job process like this. Plus, Envent could use their own staff to operate the equipment. These two factors positioned us to be First in Choice for the project.
Because of the local air requirements, the customer required an inert stream prior to entering any type of control device, like the scrubbing system. Other requirements such as TWIC cards for personnel, fully contained equipment, berms, low emission equipment and strict safety standards were all readily available for the job making Atlas Copco Rental an ideal choice for the job. Our track record with meeting and exceeding safety standards helps prevent any issues during the job, increasing productivity and cutting costs for customers.
Once all the safety rules had been met and the bid was awarded, the equipment had to be mobilised and rigged up. The team in Covington, Georgia delivered all equipment needed with urgency after the customer accelerated the delivery by 24 hours. The Atlas Copco Rental team was responsible for setting up the equipment for the first test. The testing process lasted about ten hours, giving the team enough time to tweak the flow and pressure for optimal performance. They configured a customized solution including (1) NGM 3000 N2 membrane on a trailer, (3) XRVS 1350s diesel driven mobile air compressors, a receiver tank, berms and (9) hoses that delivered 500-1400 cfm of N2 at 100 psi with purity above 95%.
When the equipment was fully set up, the customer's crew took over and had their first full loading within days. The second and third loading events went very well and the system exceeded the H2S reduction levels that the customer was expecting. The entire testing should last about two months. As the test period continues to unfold, we will have a better understanding of the long-term potential for this package.